12 things to know before colouring your hair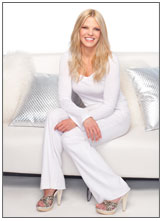 1. THE EXORCIST: Get it out of your system: If you swim in chlorine or are planning on doing so, get it out of your system (and your hair) before you colour your hair. Use a chelating shampoo to remove as much chlorine build up prior to colouring. Avoid chlorine at least two weeks after colouring. You will definitely be messing with your hair and your colour if you choose to dive in.

2. SHAPE UP!: Prepare your hair for colour by using a deep conditioning and hair repairing masque. KELLY VAN GOGH™ Rich & Delicioustm Intense Caviar Masque prepares the hair for colour by evening out porosity and rebuilding collagen and protein in the hair that are the building blocks of vital healthy hair. If you do not correct the porosity in the hair, your hair colour may not go on evenly.

3. BEWARE of oils and creams after the fact: Beware of at home hair colours and in salon hair colour that requires an extra step after colouring by applying a "conditioning creme or oil" to be used AFTER the colour. Porosity in the hair must be evened out BEFORE coloring, not after. And the colour services that require this extra step usually are very harsh on the hair and this extra step is to mask the damage. Damage causes colour to fade. KELLY VAN GOGH™ MASTER BLEND LUXURY CAVIAR HAIR COLOUR has built in porosity controllers embedded deep within the formula. The patented caviar repairing system corrects hair as it colours leaving hair in better condition after the colour than before.

4. CHANGE ARTIST: The further away from your current all over colour that you go, the more chance you have to make mistakes, ESPECIALLY if you are trying to go lighter. COLOUR DOES NOT LIFT COLOUR, so please do not think you can put a lighter shade over a darker shade and get a good result. You must highlight with a lightener or remove the colour before you can go lighter.

5. REALITY CHECK: If you don't like red or gold in your shade, do not pick a shade with red or gold or warm in the name.... even if you like the model on the box.

6. GET REAL: The ombre has finally been put to rest and this spring it's all about shiny beautiful multi-dimensional shimmering all over colour. If you have the ombre, try going darker closer to your natural shade to stay current this season.

7. TREND SETTER: Be aware of what is going on with colour on the runways and red carpet. Dark Golden Shimmering Blonde and gorgeous shiny all over colour is all the rage.

8. KNOW IT ALL: Some clients know that not all hair colours are created equal. It's all about results. KELLY VAN GOGH™ MASTER BLEND has been hand blended by Master Colourist / Chemist Kelly Van Gogh with patented ingredients such as a caviar oil delivery system and Mica Shine Technology™ that restores the hair's natural balance and gives out of this world results.

9. MASTER MIND: Know why you are colouring your hair. What do you expect to achieve by colouring your hair? How do you want to feel? These are important factors in determining the right shade and helping to choose the right brand. Colour is an emotional experience. Expect more out of your colour with KELLY VAN GOGH™ and GET NOTICED, Compliments matter. Receive three compliments on your hair colour after using KELLY VAN GOGH or I will give you your money back or a new shade.

10. TOOL TIME: Make sure you have the right tools for the job. WIthout the right tools to correctly apply hair colour, your faulty application could ruin the entire hair colour experience. KELLY VAN GOGH MASTER BLEND includes professional reusable tools in every kit.

11. USE PROTECTION: Make sure before you colour that you have the right protection for after. KELLY VAN GOGH™ COLOUR PROTECTING CAVAIR Shampoo, Conditioner and Wonderlusttm protect against all five enemies to hair colour which no other brand does. Independent lab studies show, we make hair colour last 10 times better than the leading professional brand.

12. OIL SLICK: Be careful of putting oil smoothing and styling products on your colour treated hair. Hair will look shiny and conditioned on the surface for a day or two, but underneath you are drying out and damaging your hair which causes colour to fade.